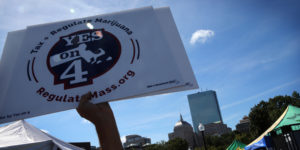 The overwhelming victory of Question 4 in Massachusetts that legalized marijuana in Massachusetts raises new questions and concerns for landlords in the commonwealth. Making things even trickier is the statement by Senator Stan Rosenberg (D. Amherst) that the legislature will be reviewing and tweaking the law in the upcoming legislative session. However, the law as passed provides some guidance to property owners and landlords. Here are the general rules.
No Smoking Policies
The new law, General Laws c. 94G, appears to permit a property owner to adopt or continue a no smoking policy on the premises. This is a little confusing and achieved through a series of negatives ("this chapter shall not be construed to prevent a person from prohibiting . . . consumption of  marijuana . . . on or in property the person owns . . . ."). The statute goes on to say that even though an owner can prohibit consumption, display, production, and manufacture of marijuana a "lease agreement shall not prohibit a tenant from consuming marijuana by means other than smoking . . . ." When all those negatives are harmonized, the result is that a landlord can establish a no smoking policy but cannot prohibit consumption of so-called edible marijuana products. One possible  trap for the unwary is that the policy should be adopted by the owner of the property not the management company. This might be one of the fixes that the legislature could take up that would protect larger multifamily property owners.
Public Housing Authorities and Section 8
Even though marijuana use is legal in Massachusetts, consumption, distribution and sale is still a violation of the federal Controlled Substances Act and the rules are very different for public housing authorities. The Department of Housing and Urban Development has issued two memoranda to assist PHAs regarding medical marijuana use by tenants receiving public assistance (a memorandum to Public Housing Authorities dated February 10, 2011 and a second dated December 29, 2014). The department is crystal clear that a PHA is prohibited from admitting into public housing or the Section 8 program a tenant using controlled substances, including medical marijuana (see 42 U.S.C. §13661). But a PHA has more flexibility when an existing tenant (who was lawfully admitted into public housing) is found to be using medical marijuana. In such cases, the PHA has the discretion whether to permit the tenant to remain in the program. Public housing authorities are advised to develop policies about whether a tenant will be permitted to continue receiving public housing benefits if they are found to be using medical marijuana.
Finally, since HUD's rules address only the use of medical marijuana, public housing authorities should consider carefully how to address the continued occupancy of tenants using marijuana recreationally. If a PHA is prohibited from admitting a person using medical marijuana and permitted (if not required) to terminate benefits for a tenant using pot for medicinal purposes, the safer course may be to create a policy that prohibits recreational use in publicly assisted housing. At present, the law in Massachusetts appears to support the termination of Section 8 benefits for tenants whose visitors possess a controlled substance, Figgs v. Boston Housing Authority, 469 Mass. 354 (2014), but neither the SJC nor HUD have addressed recreational marijuana use in public housing and until they do, it may be better to ban marijuana use.